Week 2 Term 3 2022
Aboriginal Acknowledgement
We acknowledge the traditional custodians of the land throughout Australia and their continuing connection to land, sea and community. We commit ourselves to actively working alongside Aboriginal people for reconciliation and justice.

Dear Families,
I would like to welcome everyone back to Term 3 and I trust that the holidays, (they seem so long ago!), were a happy and restful time to recharge the batteries. We were certainly blessed with beautiful weather and also some very frosty winter mornings!
On Monday 8th August we celebrate the Feast of St Mary MacKillop. Mary Mackillop is Australia's first saint. Mary MacKillop was a trail-blazer in her lifetime, leaving a culture of exemplary living for her followers to emulate. Mary paved the way for education of poor children and a variety of ministries which addressed the needs of 19th century Australia.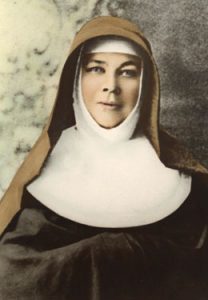 Mary MacKillop was the founder of the inspirational group of women who continue her work today in our country and in neighbouring countries. Mary MacKillop is an example of faith put into action and words, as she followed her dream to ensure country children in small rural communities in Australia were able to receive a good education in their Catholic faith and academic skills for their future. She always went out of her way to minister to the poor, the lonely, the sick and those who were outcasts.
Mary Mackillop's mantra was "To never see a need without doing something about it".
Mary MacKillop Prayer
Ever generous God,
You inspired Saint Mary MacKillop
To live her life faithful to the Gospel of Jesus Christ and constant in
bringing hope and encouragement
to those who were disheartened, lonely or needy.
With confidence in your generous providence and through the
intercession of Saint Mary MacKillop
We ask that you grant our prayers.
We ask that our faith and hope be fired afresh by the Holy Spirit so
that we too, like Mary MacKillop, may live with courage, trust and
openness.
Ever generous God hear our prayer.
We ask this through Jesus Christ. Amen.
NAIDOC Week
Next week we are celebrating NAIDOC Week at school. Mr Condie has been very busy organising activities for this week. Each class will be doing class activities throughout the week. We will begin our celebrations on Monday morning with an assembly. On Tuesday Mitch King will be doing some dancing with our students. On Wednesday Aunty Delta will be leading students in cultural activities and on Thursday our indigenous students, their families and Trinity students will share a barbeque lunch. On Friday all students are invited to wear casual clothes to school in the indigenous colours of red, black and yellow. If they don't have clothes in these colours any casual clothes may be worn. School hat and covered shoes are to be worn.
We thank Mr Condie for his continued passion, hard work and commitment to ensuring our indigenous students are acknowledged and valued and for sharing his knowledge and wisdom with all students - great job!
There will be photos in our next Newsletter.
Rapid Antigen Tests (RATs)
We have received another supply of Rapid Antigen Tests for distribution to our students. Each student will receive a box of 5 tests. We will be sending these home on Monday with students. If you DO NOT wish to receive these could you please let your child's teacher know.
School Review and Improvement
Over the past 3 days our school has undergone a School Review and Improvement process. This involved a panel of reviewers coming into the school and speaking with staff, students and parents about all aspects of our school with a particular focus on learning and teaching.
The reviewers provided feedback to staff yesterday afternoon on their findings. We received many commendations and affirmations as well as some recommendations to support us as we move forward into our next three year Strategic Management Plan. I would like to thank the parents who came along to speak to our reviewers. A very special mention must be made of our students, who the reviewers said spoke so confidently and positively about their school.
I would like to congratulate and thank our staff on a very positive report. I will share aspects of this report with families when we receive the final report.
The Tell Them from Me survey will provide further data as we move into our next three yearly cycle (see below).
Tell Them from Me Survey
The Catholic Schools Office, in partnership with Diocesan schools, has a continued focus on the improvement of school effectiveness and student outcomes. As part of that process school staff, students in Years 4, 5 and 6 and parents will be invited to be a part of a survey titled 'Tell Them from Me'. The survey will ask about their experiences at school; how they learn best, who helps them to learn, how can they be helped in their learning etc. This survey will open in a weeks time and will remain live for 2 weeks. The link to the survey will be sent out next week. The data collected from staff, students and parents will provide key information to assist in developing our school Strategic Management Plan. The surveys will be anonymous and take about 20 minutes to complete.
If you do not wish your child to participate could you please contact your child's teacher.
2023 Enrolments
I have had the pleasure and privilege of meeting some of our new families enrolling their child into Kindergarten next year. What a delight it is to see the smiles on the faces of the children as we talk about their transition to 'big school.' When I ask our new parents why they have chosen St Carthage's for their child they have unanimously said that they have heard great things about the school. All the advertising in the world can't make up for personal recommendations from someone who speaks positively about their experiences at our school!
If you are aware of anyone who may be considering enrolling at St Carthage's please encourage them to make contact with the school or go to our school website and complete the online enrolment form. Enrolments for Years 1-6 for 2023 are also open.

Book Week Parade - Advance Notice
This year's Book week theme is "Dreaming with eyes open...". We will again be having our Book Week dress up and parade at school. This will occur on Friday 26th August.
Change of details
Please be mindful of informing the school of any diagnosis or change in medical conditions for your child so that school health plans and records are current and accurate. This is especially important for those students with Asthma, Anaphylaxis, Diabetes and other medical issues.
School Photos
We have been able to reschedule our school photos that were meant to take place in Term One. School photos will now take place on Tuesday 30th August and Thursday 1st September.
The envelopes to order school photos will be sent home when we receive them in the coming weeks. Envelopes need to be returned to school prior to the school photos taking place.
On Tuesday 30th August we ask that all students wear their full school uniform. Year Two and Year Three will not wear their Sports uniform on this day as per usual.
Week Two Award Recipients
Congratulations to all our award recipients this week. It was wonderful to see so many of our students receiving awards for their hard work and effort in class.
The Transfiguration of the Lord is celebrated on Saturday 6 August
This is such an interesting time in the life of Jesus.
The Transfiguration is a pivotal moment, and the setting on the mountain is presented as the point where human nature meets God: with Jesus as the connecting point, acting as the bridge between heaven and earth.
One idea for families to use when you speak about this momentous occasion is to teach about clouds or fog. Our problems and concerns can be like clouds (one of the symbols used in this event) or like a foggy morning - we can pray to Jesus for direction (to clear away that cloud or fog).
There is no need to go too deeply into the event. Keep the message simple.
St Mary MacKillop – St Mary of the Cross - we celebrate her Feast Day on Monday 8 August
Mary Helen MacKillop RSJ (15 January 1842 – 8 August 1909) was an Australian nun who has been declared a saint by the Catholic Church, as St Mary of the Cross.
Together with the Reverend Julian Tenison-Woods, she founded the Sisters of St Joseph of the Sacred Heart (the Josephites), a congregation of religious sisters that established a number of schools and welfare institutions throughout Australia and New Zealand. They wanted to care for the education of the rural poor.
The process to have Mary MacKillop declared a saint began in the 1920s, and she was beatified in January 1995 by Pope John Paul II.
Pope Benedict XVI prayed at her tomb during his visit to Sydney for World Youth Day 2008 and in December 2009 approved the Catholic Church's recognition of a second miracle attributed to Mary.
She was canonised on 17 October 2010, during a public ceremony in St Peter's Square at the Vatican. She is the first Australian to be recognised by the Catholic Church as a saint.
Update on the Parish School Sacramental Program
| | | | |
| --- | --- | --- | --- |
| Sacrament | Date | Where | Times |
| Sacrament of Confirmation | Wednesday 26 October | Cathedral | Commencing at 5:30pm with a talk by the Bishop followed by the Rite of Confirmation commencing at 6pm |
| Sacrament of Eucharist (Holy Communion) | Sunday 27 November | Cathedral | Mass at 5:30pm for all students |
| Rite of Reconciliation | Monday August 29 | Cathedral | 6:00pm |
Catholic students in Years 4-6 can also be Confirmed. Please nominate them when nominations are called in Week 3 of this Term.
Catholic students in Years 5-6 can also make their first Reconciliation and Eucharist. Please nominate them when nominations are called in Week 3 of this Term.
Enrolment Forms will be issued this Term to all students in Year 3 and 4 and will also be available in the School Office. An Enrolment Form will also be available in digital format.
A retreat experience will be provided for all students prior to each of the Sacraments.
A reminder about preparing for the Sacrament of Confirmation
A copy of a Baptismal Certificate needs to be provided for any child who is enrolled in a Sacramental program unless your child was Baptised in the Cathedral Parish or you provided one to the school during the enrolment process. If you do not have this, I would advise contacting the Parish where your child was baptised to obtain one as soon as possible.
A Sponsor (a practising Catholic over 18 years of age) needs to be nominated for each student to accompany them on the evening of their Confirmation. If the Sponsor is unable to attend the Confirmation evening a parent/carer can stand in for them during the Confirmation ceremony.
Parental Authority - Both parents need to authorise the reception of these Sacraments. If only one parent has signed the enrolment form and there are Court Orders in place a copy of any Court Orders concerning residential arrangements for the Candidate, time spent by the Candidate with either parent, all parenting issues must be supplied with the Enrolment Form.
Catholic Book and Gift Shop
First Eucharist as well as other special events are happening and we have that gift you are seeking for a special occasion. Due to being wiped out during the flood the Gift Shop is located at St Vincent's Hospital. You can enter via Dalley Street, through the coffee lounge and up the stairs or use the main entrance of the hospital, up
the lift to level 2 and follow the signs.
While you are there why not test out the coffee and cake! All proceeds will go to the purchase of equipment and special projects at St Vincent's Hospital.
Open each week day 9am-4pm and the phone number is 6627 9229.
Here are a further list of those who supported our school with donations.
| | |
| --- | --- |
| Presentation Sisters of Lismore | |
| St Felix Catholic Primary School Bankstown, NSW | |
| Xavier Catholic College, Skennars Head | |
| Holy Family Catholic Primary School, Skennars Head | |
| Sacred Heart, Colac | |
| Beaconhills College, Pakenham and Berwick | |
| St Bernard's Primary, Batehaven NSW | |
| St Michael's Primary Blacktown South, NSW | |
| Nhulunbuy Christian College, NT | |
| St Joseph's School Goulburn, NSW | |
| Saint Carlo Borromeo Catholic Primary School, Vic | |
| Villa Maria Catholic Primary, Hunters Hill, NSW | |
Stormbirds Program - for students who have experienced a natural disaster - starting soon!
The Program is a wonderful opportunity for children who have experienced a natural disaster to share their experiences of change and loss in safe and creative ways, to express their feelings, and learn skills for adapting and recovering.
Each small group is 'Companioned' by either myself, Beth Cronin (our School Counsellor) or Sereena Zanuso (our Student Support Officer). Our school program commences next week.

https://www.goodgrief.org.au/stormbirds


If you feel your child/ren would benefit from this program, please call the School Office to enrol them. I am very happy to speak with individual parents/carers about the suitability of this program for your children – please contact me through the Office.
Good News!! Cathedral Update

The Parish is very pleased to announce that the contractors are completing the last of their projects and the final cleaning and setting up of the Cathedral will occur next week. This means the Cathedral will be open for the celebration of Mass from Saturday 6 August.
Sound Waves Spelling
At St Carthage's we use the Sound Waves Spelling Program as a resource for teaching spelling to our students. It is a whole school approach focusing on teaching students the 43 phonemes of Australian English.
Four areas of teaching:
Phonemic awareness, synthetic phonics, morphology and etymology
Informed by research on the best practices for teaching spelling, the program incorporates four key areas of teaching:
Phonemic awareness: the ability to work with phonemes.
Synthetic phonics: phonics instruction that involves teaching phoneme–grapheme relationships.
Morphology: knowledge of the meaningful parts of words: prefixes, suffixes, and Greek and Latin roots.
Etymology: understanding of word origins and history.
Each grade sets weekly tasks that can reinforce learning in the classroom. These tasks may include online games and activities on the Sound Waves Student Site or offline activities to consolidate learning.
Student online access is available through:
(Please contact your class teacher for the student access code)
The focus sound for the next two weeks are: